Managing product platforms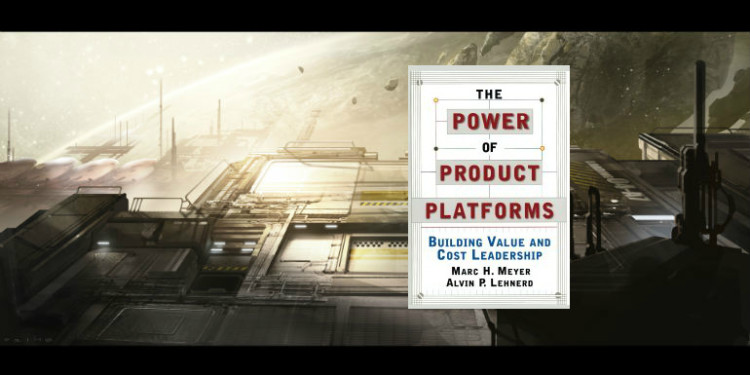 The Power of Product Platforms
by Marc H. Meyer and Alvin P. Lehnerd
---
What is a product platform
The Power of Product Platforms provides an outline of the strategies to succeed in platform development. The book uses the HP color printer product line as an example of successful platform extensions. HP made four platform extensions to the "500" series: color printing, a dual pen system, portable printers, and overall cost reductions. It subsequently developed two new product platforms, the "600" and "800" series.
In the course of developing the "500" platform, HP developed derivatives from existing product platforms, enhanced the platforms to address new markets, and created entirely new platforms. HP did these things all at the same time. Additionally, HP used advanced manufacturing processes to keep costs down and chose a valuable product type to offer consumers at a time when personal computer usage was on the rise.
Evolving product families
There are three considerations when evolving product families:
Product family evolution – Successive generations of product families (derivative products from a single product platform)
Platform renewal – Creation of platform extensions which themselves spawn new derivative products
New product creation – Usage of existing and new platform components to produce new offerings
The power tower elevates executive attention from single products to the broader dynamics of product families.
Platform development
The authors use the Power Tower (below) to illustrate the integrated components of products and process that are required to be successful at platform development. The first concept is the market applications, which is a matrix of market segments and tiers. The second is product platforms, which are successive generations of an initial platform. The final elements are common building blocks: consumer insights, product technologies, manufacturing processes, and organizational capabilities. In the Black & Decker example, building blocks include plastic molding, Loctite bonding, powdered metal gears, and magnesium die-casting. Product platforms are drills, sanders, saws, and hedge trimmers. Derivative products have different blades/bits, handles, and packaging. Market segments are consumer indoor, consumer outdoor, automotive, and international.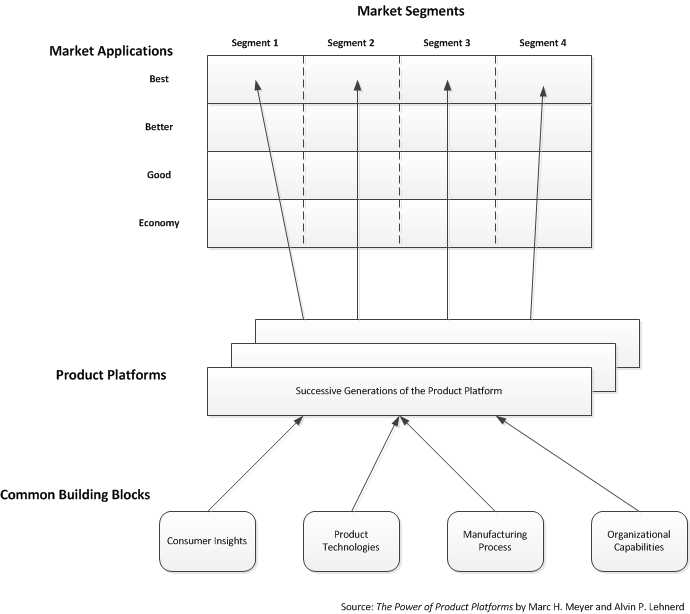 Using the market segment/application matrix at the top of the Power Tower, there are several strategies which can be used to introduce the derivative products to market.
Niche-specific platforms
Niche-specific platforms which minimally share subsystems and production processes: In this strategy, individual platforms are assigned to market segment and tier pairs. The risks of this approach are duplication of effort and increased cost.
Horizontal leverage of key platform subsystems and production processes
This strategy bases product platforms on price/performance tiers across all market segments.
Vertical scaling of key platform subsystems
In this scenario, the initial platform begins either in the "good enough" or lower cost/performance tier and moves upmarket or starts in the premium segment and moves downmarket.
Beachhead strategy
Horizontal leverage and vertical scaling are applied to the initial platform to move across both market segments and applications.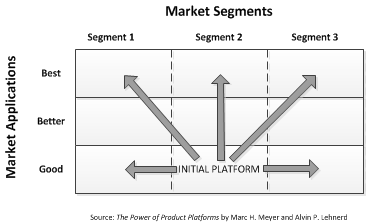 …new product strategy has a simple guiding principle: to obsolete your own products with better ones through continuous product platform renewal
Product platform renewal along the dimensions illustrated above encourages companies to continually evolve their offerings while maintaining the benefits of standardization, modularity, and economic benefits from procurement of common platform subsystems. The authors also point out that low-cost, high-volume market tiers can be attractive, particularly from a "beachhead" perspective.
---