Landing a Product Management Job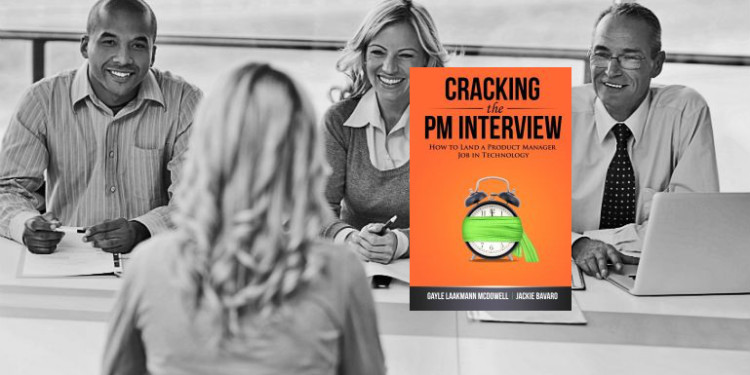 A product manager's job varies across industries, company size, and product lifecycle. The role can spans a variety of technical, business, and design areas. Product managers are expected to work at all levels from market sizing and business strategy through customer interviews and competitive analysis to defect prioritization and documentation.
Cracking the PM Interview: How to Land a Product Manager Job in Technology
 by Gayle McDowell and Jackie Bavaro
Cracking the PM Interview defines the product manager's core role and its various permutations. This book is a terrific overview of the role in context of finding a new job. In addition to describing how product managers differ between various companies, the book describes the career progression to the VP level. Profiles of top tech companies include descriptions of how the role is defined in each.
Most of the book covers interview questions and how to answer them, including detailed steps to prepare for interviews. They suggest creating a matrix of five stories per job, each of which illustrate a specific aspect of the role such as successes, challenges, leadership, and teamwork. There's also a section with before/after resume examples, cover letters, how to research potential employers, and how to present yourself (you're the product now!).
The authors have created http://www.thepminterview.com/ which presents a product management interview question each time you hit Return.
[youtube https://www.youtube.com/watch?v=CshJxTcsgvo]
The Product Management role
A PM is responsible for making sure the team ships a great product.
 The product manager role blends technology, business, and design. Although the role is often referred to as "mini CEO", typically the product manager has no direct authority over the team and does not manage profit/loss, business development, or mergers/acquisitions. The primary function of the product manager is to understand and represent the customer and to translate that into cohesive features and functions which meet the customer's needs.
Different companies, different product management skills
There are as many types of product managers as there are customer and company types:
Shipped software products often require strong project management and communication skills due to longer timelines.
In SaaS software companies, projects move quickly and teams typically release on a continuous basis. Being nimble, adaptable, and goal oriented are important product management traits here.
Consumer products can require data-driven product design. Product managers with strong customer research skills and understanding of how to move key metrics will succeed.
B2B products frequently require business model and partnership focus. Keeping an eye on revenue contribution, participating in pricing decisions, enabling partners, and understanding how to prioritize large and small customer needs are key traits in this environment.
In a startup, the product manager has to quickly discover customer needs, build a test, validate, learn, and make the next move. A laser focus on high leverage experimentation is key to stability.
Mature products can be a great environment for learning from past successes, but the pressure to not destroy a profitable can also be high. Balancing inertia, nimble competitors, internal stakeholders, and resistance to change are challenges with established products.
Product Questions
The book includes various types of interview questions: behavioral, product, coding, estimation, and case studies. Product design questions are always asked in product management interviews and typically take some form of the following:
How would you improve product X?
What do you like best about product X?
How would you design product X?
To give a solid answer, start with the goal and the users. What metric are you trying to affect? Either ask for clarification of the goal or make an educated guess and be explicit about your assumptions. Ensure you are evaluating the features against the goal. Next, articulate the needs and context of your users. Use cases will illustrate the scope of your design. After establishing the use cases, ask "how are they solving the problem today?" Evaluating current solutions will highlight gaps your product can fill. Features should be the last part of the answer, since those are dependent on your previous explanation of user needs and goals. If you're answering the new product question, proposing alternative solutions is a good presentation tactic.
For improvements to an existing product, begin with the goals of the product. Since it is already in market and in use, it will be easier to establish the purpose of the product than in the "design a new product" question. Think in terms of the human or business problem the product solves rather than the features it contains. Next, move to the challenges or opportunities that characterize the product currently. At this point you should propose a solution to the problem. Your approach will be different based on whether it is a business model, growth, technical, user experience, or functionality problem. Describe how you'd go about solving the problem including any logistical or operational considerations, issues, or risks. To conclude, describe how you'd validate your solution relative to the needs of the user community.
When answering the "favorite product" question, pick something that you are passionate about and has personal relevance. As with the other product design questions, begin with the goal and explain why you think the product meets its goal or goals. What makes users love the product? How does it inspire? Discuss how the product stacks up against comparable options. What does it do better? Worse? Finally, list some improvements you'd make. You're interviewing for a product management job, so let your creativity flow and show your product leadership skills.
To prepare for product design questions, select several products as highlights (online, offline, something you recently purchased, a favorite product, a product you think is well designed, a product from the company you are interviewing with). Next, identify the key metrics which drive the product's success and evaluate how well that product achieves its metrics. The book contains a concise list of product metrics and methods for gathering the data for each.
Case Study Questions
 Case study questions can relate to the company at which you are interviewing or a major company in the same industry. The purpose of case study questions is to gauge product and business strategy skills. Given the complexity and lack of data for many of these questions, start by structuring the problem and breaking it down into manageable parts. Pair data with business instincts to show the interviewer you can combine evidence and experience. Most importantly, show leadership by confidently explaining your approach.
Use common business frameworks such as SWOT, Five Forces, AIDA, Marketing Mix, and Situational Analysis to structure your response. Apply common product metrics user acquisition, activity, conversion, retention, and revenue types to ensure your response achieves a meaningful business goal.
Select the type of strategy the case study company may be pursuing–this will help balance the macro and micro views. Your tactical suggestions should fit in with a broader set of market objectives. If known, the partner and competitor ecosystem is also important to consider.
The book includes sample questions and answers for six categories of case study questions: strategy, marketing, launch, brainstorming, pricing, and general problem solving. The authors provide detailed approaches for each type of question you may encounter in an interview.
 Getting the Job
Cracking the PM Interview is extraordinarily comprehensive. The authors cover all aspects of the interview from a description of the role, to tech company descriptions, interviews with product leaders, resume examples, defining your personal brand, and specific answers to five categories of product management job interview questions. For career management and advancement, this is a immediately actionable resource.
---
Cracking the PM Interview: How to Land a Product Manager Job in Technology