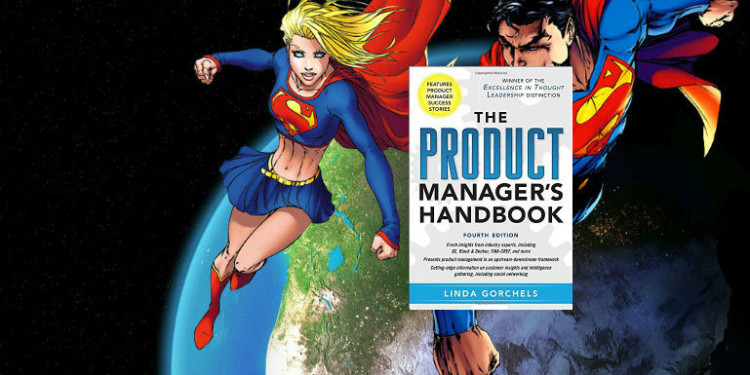 Product management core competencies include entrepreneurial thinking, strong leadership at all levels, and a holistic view to the product and its market. Product managers play in both the inception and execution segments of the innovation cycle.
The Product Manager's Handbook by Linda Gorchels
---
In The Product Manager's Handbook Linda Gorchels presents a three-part framework for thinking about product management. The first part of the book focuses on foundational product management skills including blending leadership and management skills, business and financial competencies, competitive and market intelligence gathering, and strategic planning approaches. Gorchels divides the remainder of the book into upstream and downstream product management. Key skills for upstream product management are managing the "fuzzy front end" and creating business cases and getting approvals for new initiatives. Downstream product management is concerned with go to market efforts and managing the product from cradle to grave. The book is divided between core competencies, upstream activities, and downstream skills. Upstream and downstream product management involve the foundational skills, but differ in focus between strategy and execution.
The product manager's job is to oversee all aspects of a product or service line to create and deliver superior customer satisfaction while simultaneously providing long-term value for the company.
Gorchels highlights two important parts of the job description: oversight means a product manager must accomplish her job through others and must achieve a profitable outcome. Product managers must know the market well enough to make informed decisions and hypotheses about what should be built. Awareness of the entire value chain is important–often supply chain and distribution channel concerns can make or break a product.
Like entrepreneurs, product managers have to marshall resources from diverse sources, collaborating and influencing individuals for whom they don't have any direct control. Great product managers share the vision, relentlessness, and customer focus that distinguishes successful entrepreneurs.
Upstream and Downstream product management
Gorchels presents an upstream/downstream model for the product management role. Upstream product management includes product strategy, product planning, and roadmaps. Upstream activities are grouped under "Concept", "Create" and "Commercialize". Downstream product management activities are associated with "Reinforce", "Renew", "Resurrect", and "Retire". While upstream is concerned with strategy, new products, and new initiatives, downstream is focused on lifecycle management.
Leadership and management
Management is about coping with complexity and leadership is about coping with change
Gorchels discusses leadership and management and encourages product managers to think like entrepreneurs and "become the spirit of entrepreneurship for your product line." Additionally, product managers need to master both the efficient use of resources to achieve objectives as well as the ability to craft a compelling vision and energizing others to make it material. She acknowledges that leadership and management are two sides of the same coin: leadership is about deciding and management is about making the decision work. Leadership can be thought of as transactional (closer to management) and transformational (what we traditionally think of as business leadership). A product manager should have both types available and know when to exercise one or the other.
Managing Stakeholders
In the corporate theater, product managers are both actor and director, staging a series of events for the benefit of the market–the final customers.
As organizational boundary crossers, product managers interact with a variety of business functions from sales to finance to operations. Each group requires a different level and type of engagement. With no formal authority, product managers gain success through negotiation, compromise, and choosing their battles.
Financial Acumen
Successful product managers understand the basic financial parameters of their product. How do prices relate to costs? What is the profit margin? What drives the costs of the product? What financial benefit does the product provide to customers?
Without knowledge of basic financial concepts like income statements, break-even analysis, and the price waterfall, product managers cannot make the decisions required to guide their product in the market. Developing an effective business case or pricing strategy relies on these basic financial skills. The book outlines each of these tools and has two short interviews with executives who give their expectations on the type of business skills a product manager needs to have to be effective in their organizations.
Intelligence Gathering
Good product managers are adept at gathering both internal and external contextual information about their products. Gorchels uses the acronym TIME (technology, industry, market, events) to map out the types of data a product manager should gather regularly.
Technology comes in two varieties: the technology that is used in the product itself and technology trends in the industry and society which influence the usage of the product.
For industry analysis, Gorchels recommends Michael Porter's Five Forces analysis.
Effective competitive analysis involves assessing various types of competition: companies who provide products that directly compete with yours, a description of the industry category you belong within, any substitutes for your product which solve the same problem, and budgetary barriers to purchasing your product.
Customer segmentation consists of understanding usage patterns, growth/decline trajectories, purchase scenarios, new/repeat buyer motivation and behavior, mapping financial buyers and end users, and any relevant attributes specific to your industry and product category.
Product Planning
The product planning process starts with an assessment of the current situation and moves to developing a vision for the future. Those two points establish whether there is a gap. Next, specify what you are doing this month, quarter, or year to move closer to your desired future state. Your action plan will include strategies, tactics, projects, initiatives, and deliverables. Finally, establish a set of metrics by which to measure success.
Ask about product life cycles, branding, differentiation, distribution channels, quality, profitability, marketing/promotion pricing, and customer satisfaction to consider for your current state. Gorchels has a great checklist that covers many aspects of a product and its business context. She recommends placing all this information in a product fact book (or online resource).
Like amazon's "press release" method, Gorchels suggests writing a future annual report for your product as a way to project yourself into a future scenario and illustrate what success will look like. Thinking of three time horizons are a useful way to establish a complete future vision: products that exist today and are in market, new products that are under development, product concepts and research items. This portfolio view gives context to your efforts and illustrates how your investments will add up to customer benefit.
Product planning is emphasized by several of the product leaders interviewed in the book as a way to showcase the thinking that leads to growth and customer value. Most executives quoted include strategic thinking, financial knowledge, negotiation, influence, design thinking, customer discovery, and go to market skills as essential for great product managers.
The strategic role of the product manager
What skills are needed to be an effective product manager
---