Building Insanely Great Products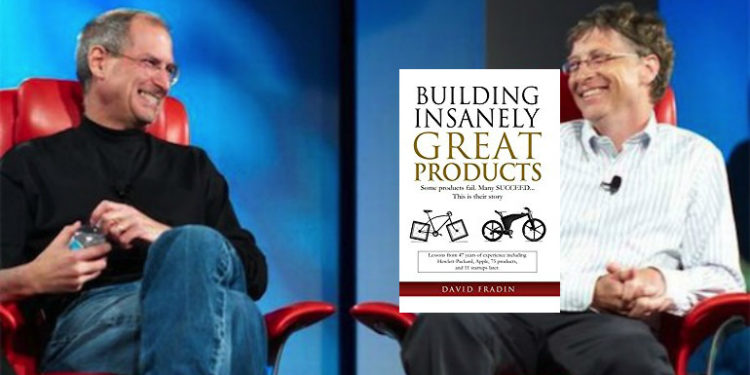 To build great products, design the whole product, including the first experience, the subsequent customer journey, pricing, support, and go to market activities.
Building Insanely Great Products
by David Fradin
This is a short book of rapid-fire advice snippets interspersed with a variety of anecdotes from Fradin's career. Fradin races through a lot of concepts and briefly covers topics like pricing, go to market plans, and customer discovery. The book can be used as a checklist for developing or fine tuning a product development lifecycle. There are some key principles, but primarily it offers a mix-and-match variety of tidbits to be used in relation to your own process needs.
Fradin leads Spice Catalyst, a consulting company that provides product management and product marketing online courses and bootcamps. Fradin worked at both HP and Apple when the product management role was first being defined and has some interesting observations from his time at those companies.
After establishing his credentials and naming the many companies and tech leaders he's worked with, Fradin begins by pointing out the failure rate of new product development. He lists a set of 21 items of advice for product managers which are aimed a reducing the failure rate of new products. These 21 ideas are sprinkled throughout the book and are interwoven in his overall process. At the end of the book, Fradin elaborates a bit on each of the 21 recommendations. The core of the book is Fradin's SPICE framework: Product Market Strategy, Process, Information, Customers, Employees, Systems and Tools. Fradin puts most of his advice in the Strategy section and covers a lot of ground very quickly, giving brief outlines of some key concepts.
In the Product Market Strategy section, Fradin gallops through many ideas beginning with a go to market checklist and focusing on how to understand your customer. Fradin notes the importance of design thinking and provides a few illustrations of why it benefits customers. He advises product managers to observe and understand what the customer is actually doing rather than asking what they want. He highlights Anthony Ulwick's Outcome Driven Innovation method, which is a way to identify customer needs. One of Fradin's best insights is that you must focus on the whole experience and lifecycle when building a product. This section includes advice on developing your value proposition with a sample format. That leads to a discussion of personas and market research (including interview questions) and competitive analysis. After a quick detour on SEO keywords, Fradin dives into the theory of Diffusion of Innovations and Geoffrey Moore's market adoption cycle. From there, Fradin moves on to competitive analysis and positioning. He then discusses total addressable market, market segments, and proposes a product market strategy canvas before moving on to the product market strategy plan itself. The section concludes with quick sketch of pricing strategy and partner and distribution channel strategy choices. But wait, there's more! In just a handful of pages, Fradin also covers training plans, documentation, support, sales forecasting, ROI calculations, analytics, metrics dashboards, and one sentence on intellectual property. Lastly, he gives some thoughts on product roadmaps. Fradin presents nearly 50 individual product management concepts in this section alone–these could be used as a checklist to make sure you aren't forgetting anything as you develop your own process.
The Process, Information, Customers, and Employees sections are only two or three pages each. The Process section is brief and includes the Spice Catalyst Product Management Lifecycle Framework and a set of diagnostic questions to ask about your own product management process.  In the two-page Information section, Fradin briefly discusses various types of information and knowledge. The Customer section consists of a handful of one-liners related to a customer-centric culture. Likewise, the Employee section can be boiled down to the realization that employees are an asset, not a liability; however, Fradin includes a brief diversion into accounting methods dealing with inventories.
The Systems and Tools section mainly consists of Fradin's experiences at Apple and HP and his thoughts about other high tech companies at the time, like AOL. He does include a list of common product management challenges he his team unearthed when talking with product managers. These include process, information management, collaboration, task management, visibility, and authority. Fradin's solution to these challenges is a Jira plugin called Productize. The plugin addresses each of these issues and is intended to be an end-to-end product lifecycle management tool.
Fradin concludes by admonishing all product managers: you are the most important person in the company, so ask for the authority to do what you need to make your product insanely great!
The video below contains a majority of the book's content and will give you a good sense of Fradin's main points and style:
Book Site: http://buildinginsanelygreatproducts.com/
---
Fradin packs a lot of advisory snippets into Building Insanely Great Products including a variety of war stories from his time at Apple and HP. Many of the solutions to product management problems found in the book are frameworks and tools Fradin uses in his consulting practice or elaborates in other books he has written.
 The book can be best used as a checklist for further follow-up on your own. One of Fradin's core themes is that to effectively build products, you must consider the whole product and the many interrelated processes and functional areas. Fradin does a good job of identifying many of the aspects of product management that need to be considered when building products. If you're looking for a grab bag of product management advice, you'll find a variety of departure points for further research and inclusion in your own process.